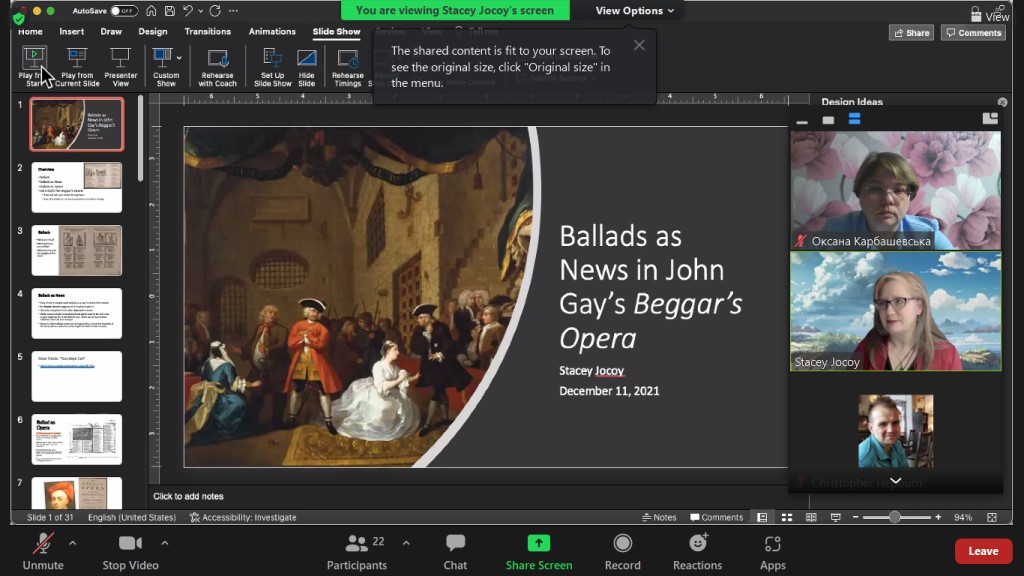 Christopher Hepburn and Stacey Jocoy, Professors of the School of Music at Texas Tech University (USA) have delivered online lectures to the students of group Аз-41 at the Faculty of Foreign Languages within the framework of the selective discipline "Interpreting poetry". Such an initiative was introduced by Oksana Karbashevska, a Docent of the English Philology Department.
During the lectures, the American Professors made interactive presentations, demonstrated the application of an interdisciplinary approach for examining the works of literature, folklore and music.
In the course of an online-meeting, Christopher Hepburn focused attention on the fact that literary and musical works are subject to the division into themes and motifs (both literary and musical). In the centre of attention there were such figures of the world culture as William Shakespeare, the English playwright, poet and actor, Felix Mendelssohn and Pyotr Tchaikovsky, German and Russian composers, as well as the masterpieces created by them, namely the comedy "The Midsummer Night's Dream" and the tragedy "Romeo and Juliet" by Shakespeare, the eponymous overtures by Mendelssohn and Tchaikovsky. The raisin of the lecture was the analysis of the potential of musical instruments for a symbolical expression of noble and working representatives, armed attacks and battles, etc. At the end of the lecture, Professor Christopher Hepburn also conducted the analysis of how Antonio Vivaldi depicted pictures of the human life in his concert "Winter".
Professor Stacey Jocoy devoted her lecture to the consideration of the most popular play in the XVIII c. "The Beggar's Opera" (1728) by John Gay, and English poet and playwright. The named musical work is a rich material for studying the ballad genre in general, and the broadside ballad in particular. The latter one became not only the vehicle for carrying the news, as a rule, sensational and scandalous in character, and recorded such an important milestone in the history of England as the first steps of journalism's establishment, but also served as the basis for developing the distinctly English ballad opera. A great interest was also generated by the opera's artistic imprinting of the fistfight which two Italian opera sopranos Francesca Cuzzoni and Faustina Bordoni had on the stage, as well as by "lamentations"-farewells of the opera's main hero before his execution in the form of 10 ballad tunes combined into a medley.
It is noteworthy that the course of online lectures by Christopher Hepburn and Stacey Jocoy, Professors at Texas Tech University, provided students of the Precarpathian University with an opportunity of personal communication with the representatives of the academic and scientific elite of the USA, who are English native speakers, as well as enriched the listeners with new knowledge, improved their language skills and competences. According to the initiator of the event Oksana Karbashevska, Docent of the English Philology Department, such meetings are a bridge for a successful professional future of the students at the Faculty of Foreign Languages.