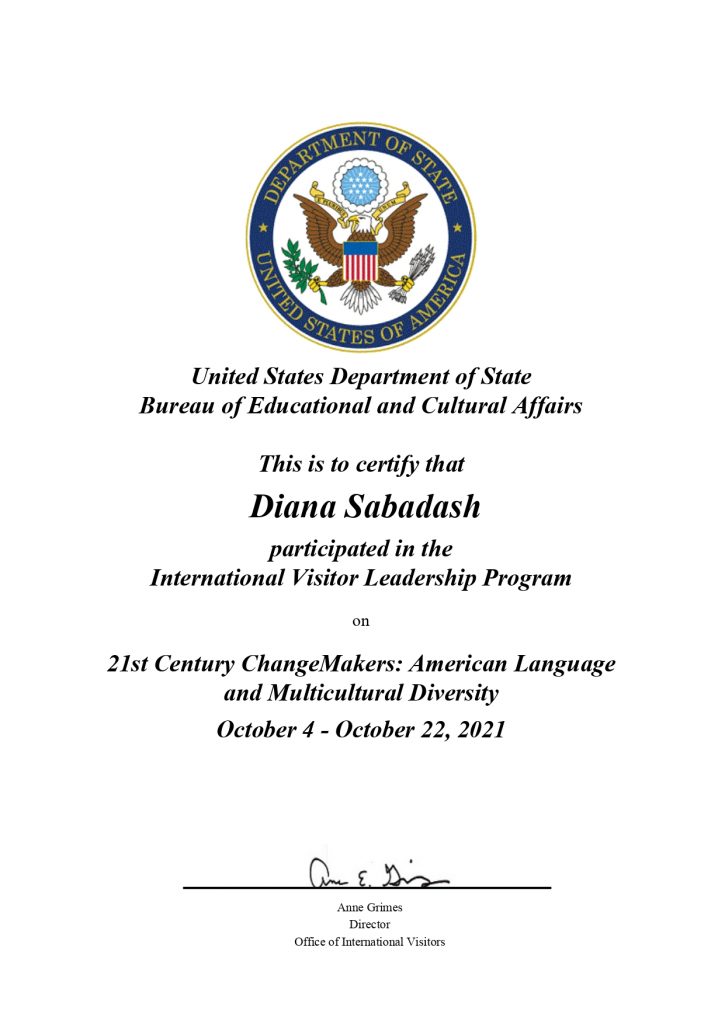 Associate Professor of the English Philology Department Diana Sabadash became a participant of the IVLP (International Visitor Leadership Program), which was sponsored by the United States Department of State Bureau of Educational and Cultural Affairs and administered by the Institute of International Education. An Inter-Regional Project entitled "21st Century Change Makers: American Language and Multicultural Diversity" was conducted from October 4 to 22, 2021.
The project addressed the following themes in each city:
Week 1: October 4 – 8, 2021
Washington, DC and Albuquerque, New Mexico
Introduction to the U.S. Federal System of Government
Shaping of the English Language, Vocabulary, Communication Styles and Stereotypes
Week 2: October 11 – 15, 2021
Sacramento, California; Miami, Florida; and Springfield, Massachusetts
State Government Oversight of Education Systems
Current Trends and Methodologies in ESL Education
Development and Use of English Dictionaries for the Classroom
Virtual School Visit
Week 3: October 18 – 22, 2021
Minneapolis, Minnesota; New Orleans, Louisiana; and Charleston, South Carolina
Case Studies: Spanish and Native American Language and Cultural Preservation in Schools
History and Perceptions of African American Vernacular English (AAVE), French and Creole Languages in Educational Contexts
The Department of State has outlined the following specific objectives for the project:
Enhance participants' understanding of American culture and history as context for English-language education;
Showcase the regional and ethnic variations of English-language dialects within the United States;
Discuss shared challenges for English language teachers, especially in multicultural settings;
Observe language teachers and students in K-12 classroom settings and exchange views with teachers on pedagogical methodology; and
Discuss issues with educational and media policymakers at the national, state and local levels.