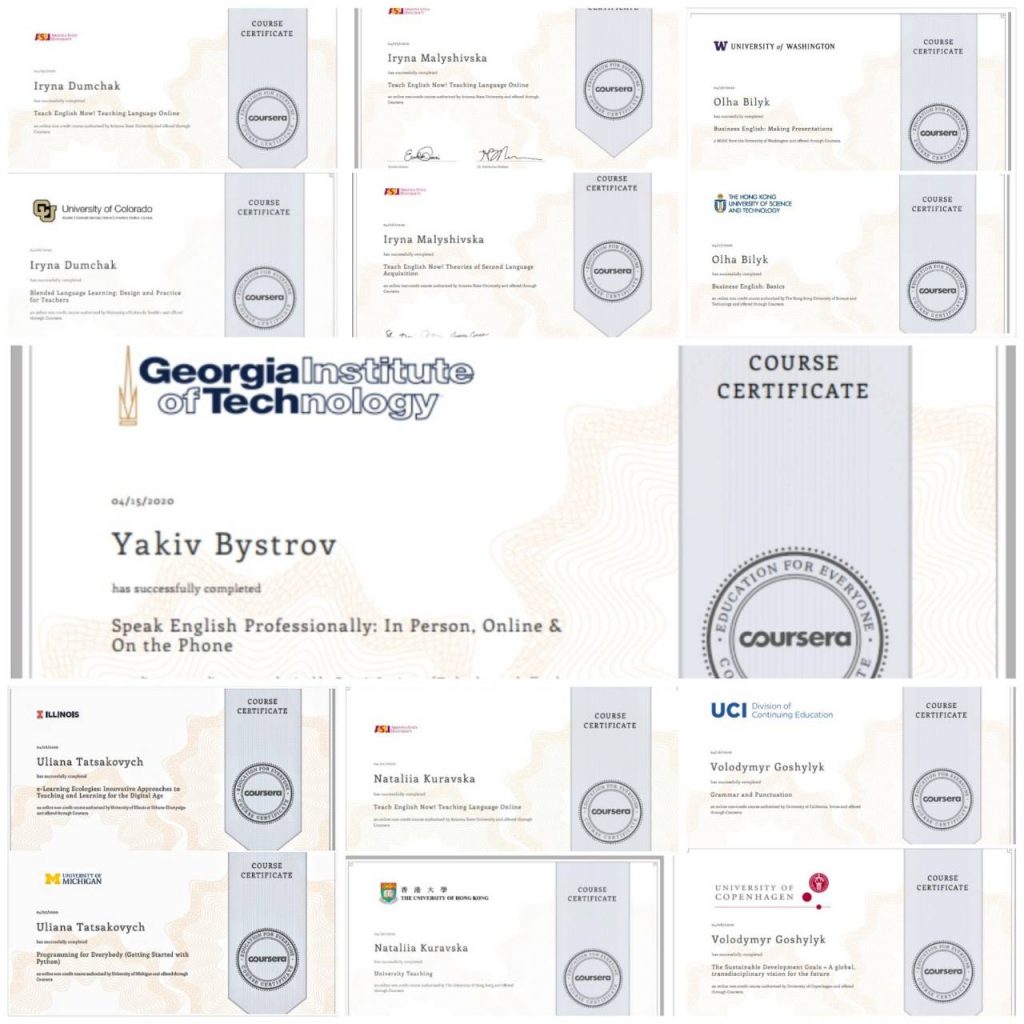 The Coursera for Campus platform collaborates with the world's leading universities and offers courses in various fields, including the humanities. In this semester, thanks to the efforts of the university administration, lecturers and students of the Precarpathian National gained access to about 4,000 different free courses on the online platform Coursera for Campus.
The lecturing staff of the faculty actively uses the opportunity to improve their professional skills and once again prove their readiness for any challenges of today. Speaking in numbers, the achievement of the faculty is 51 certificates!
As of May 1, a large number of teachers of the faculty (Bystrov Y.V., Artysh O. O., Bilyk O. I., Bilyanska I. P., Vengrinovich A. A., Goshilik V. B., Goshilik N. S., Derevyanko O. A., Dumchak I. M., Ivanotchak N. I., Kuravska N. Y., Lovchuk Y. Y., Lypka S. I., Malyshivska I. V., Marchuk T. L., Matiyash-Gnedyuk I. M., Mintsis E. Y., Mintsis Y. B., Pylyachyk N. Y., Sabadash D. V., Tatsakovych U. T., Tykha U. I., Trotsenko O. Y., Shunevych O. S., Karpash O. M.) has already successfully completed a number of courses in various fields of philology, linguopsychology, methods of teaching foreign languages online, educational management and more.
This list is far from complete, as the number of participants increases weekly. The duration of training in different courses varies, on average from three to six weeks. The educational process includes watching video lectures, reading recommended scientific articles, performing intermediate and final testing, sometimes writing essays, performing creative tasks and projects. The enthusiasm and professional level of the lecturing staff leaves no doubt.
Our lecturers are a worthy example for students and entrants who are actively working even in quarantine. Our students of 2-6 courses are also challenged, who persistently prove their interest in self-improvement and professional development on the Coursera platform! Per aspera ad astra!