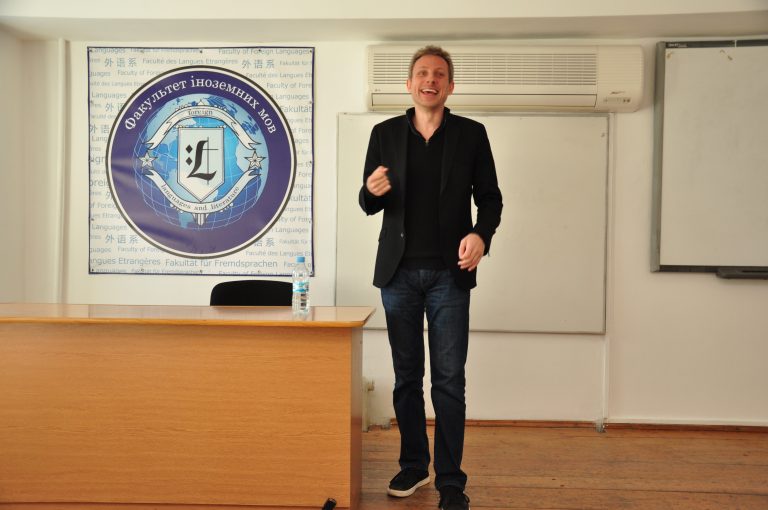 In the framework of the year of the French language in Ukraine, on March 5 at the Faculty of Foreign Languages was held a meeting with the famous French pianist Maxime Zecchini, the winner of numerous international awards. The outstanding artist is a graduate of the National Conservatoires of Lyon and Paris, as well as the prestigious International Academy of Pianists "Incontri col Maestro" (Imola, Italy).
He appeared in the hall and immediately shared his impressions of the historical attractiveness of Ivano-Frankivsk and the hospitality of Ukrainians. The pianist has long talked to students studying French as the main and second foreign language, and to the teachers of the Department of French Philology. He said that he had come to Ukraine several times, he was welcomed warmly everywhere, and he liked our friendly audience who understands art.
And students-the people are meticulous and just overwhelmed the pianist with questions. We learned that he began to study music at the age of 5, loves to perform romantic works written in the 19th century (Frederic Chopin, Franz Liszt), because they "make the piano sing." The pianist travels a lot and gets acquainted with the culture of different countries and their inhabitants, comparing the audience in different parts of the world. In Ukraine, he liked our Philharmonic, he gave concerts in Kyiv, Zaporizhia, Dnipro, Lviv, and, of course, in Ivano-Frankivsk.
Students also wanted to learn about his Hobbies (except playing the piano), impressions from Ukraine, Ukrainians, etc. He plays the instrument daily: two hours in the morning and in the afternoon: "Playing the piano like a sport, requires a lot of energy and strength. And in order for it to become music, and even more art, you must first repeat every simple movement: slowly and many times." And inspiration, shared by Maxime Zecchini – is always present, if you really love what you do, what is your passion. Impressed by his ease and openness in communication, his cheerfulness. The amazing spontaneity of Maxime Zecchini was in a lively conversation with students, for whom it was possible to actually use the French language in practice.
Finally, the head of the department of French philology O.A. Bihun thanked Maxime Zecchini because he found the time and visited our University for the sincere and heartfelt conversation with the students and she wished every success.