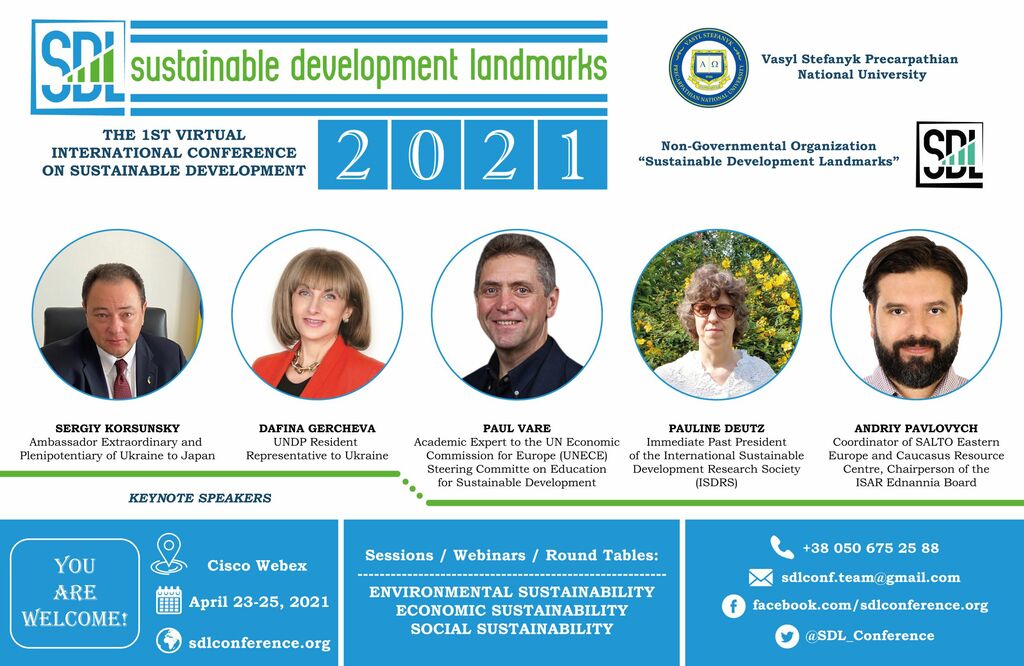 We are inviting you to participate in the 1st Virtual International Conference on Sustainable Development SDL 2021 (sdlconference.org) to be held on April 23-25, 2021. The Event is organized by Vasyl Stefanyk Precarpathian National University and the NGO "Sustainable Development Landmarks" (Ivano-Frankivsk, Ukraine) in partnership with our Department.
The Conference aims at (1) raising global and national awareness on sustainable development challenges and the crucial role of strong global partnerships and cooperation as powerful enablers of the successful achievement of all the SDGs, (2) raising awareness of the existing European and global frameworks that are relevant for sustainable development and pursuing the SDGs, (3) bringing the problems and prospects of Ukraine on the agenda of the global,  EU and national stakeholders in the sustainable development field, (4)bringing together diversity of experiences from across the globe towards cooperation for change and bringing in the element of quality improvement in all the spheres of our life.
The virtual CISCO-WebEx-based format of the Conference will include interactive plenaries for debate and dialogue and concurrent sessions for the in-depth discussion of the burning problems of sustainable development and the ways of fostering pursuing the SDGs. It is also planned to conduct webinars and round tables addressing environmental, economic and social sustainability.
The Conference working language is ENGLISH. Participation is FREE.
You'll find the detailed information in the Call for Participation.