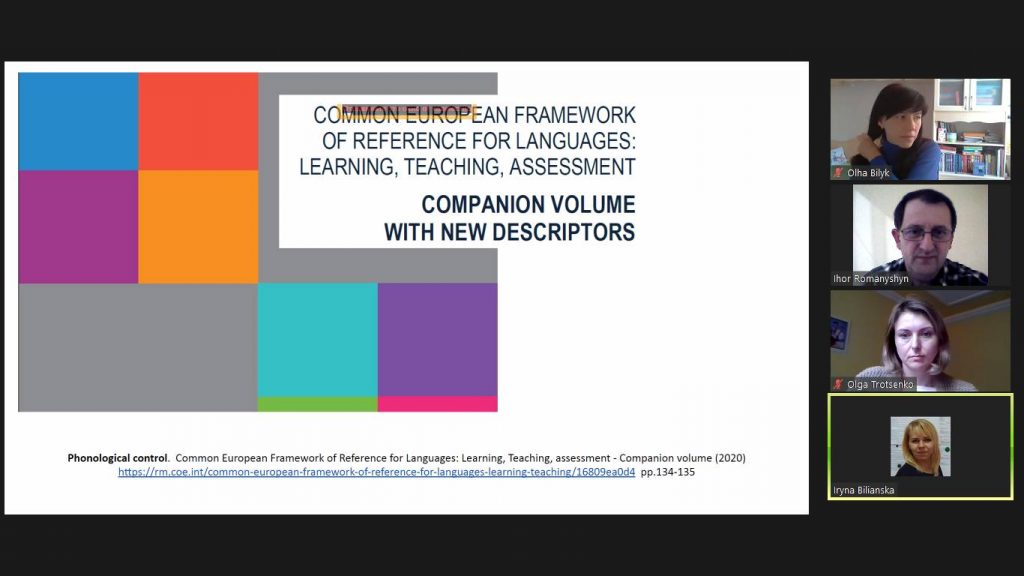 On April 6, 2022, as part of the Reporting Scientific Web Conference of Professors, Doctoral Students, Postgraduate Students and University Students for 2021, a meeting of the SIG "Modern methods of teaching English as a foreign language" was held.
Lecturers of the Department of English Philology of the Faculty of Foreign Languages ​​made presentations on topical issues of FLT: Assistant Yuliia LOVCHUK ("Eidetics as a Technology of Foreign Language Teaching"), Candidate of Philological Sciences, Associate Professor Olha BILYK ("The Role of ICT in Reducing Anxiety During Pedagogical Practice"), Assistant Olha ARTYSH ("Using Artificial Intelligence in Teaching"), Candidate of Pedagogical Sciences, Assistant Iryna BILYANSKA ("Formation of Phonetic Competence of Pre-service Teachers in the Context of Modern Requirements"), Candidate of Pedagogical Sciences, Associate Professor Ihor ROMANYSHYN ("Peculiarities of Methodical Training of Pre-service English Teachers in the COVID-19 Pandemic: Challenges and Prospects"), Candidate of Pedagogical Sciences, Associate Professor Olha TROTSENKO ("Peculiarities of the Gender Approach to Learning English at the Institution of Higher Education") and Assistant Oksana TRUKHAN ("Psychological and Pedagogical Methodological Conditions for Teaching a Foreign Language to Students with Special Educational Needs").
The speakers acquainted the conference participants with the results of their researches and took part in a fruitful discussion. Head of the SIG, Assoc. Prof. Ihor Romanyshyn, Ed.D. summed up its work – "most studies are interdisciplinary, have an applied nature, and are aimed at improving the quality of the educational process."
We wish our colleagues creativity and inspiration for further interesting research.