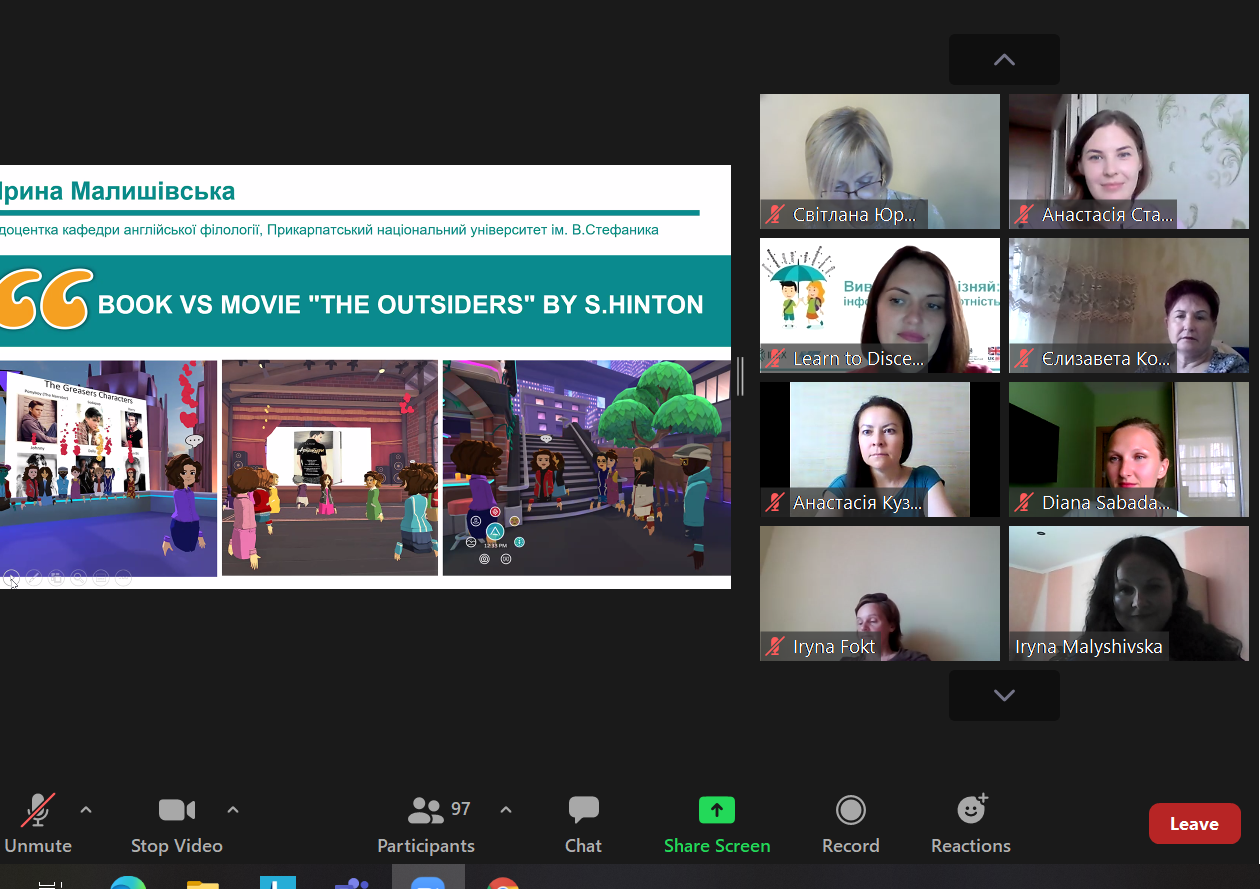 Associate professors of the Department of English Philology Diana Sabadash and Iryna Malyshivska from April 6 to May 31, 2021 participated in a mentoring program for the instructors of the higher educational establishments: "A new tool – new opportunities: meet Altspace VR" lasting 25 hours. This mentoring program makes part of the project "Learn and distinguish: info-media literacy" (IREX in Ukraine).
Having mastered the software capabilities of Altspace VR, associate professors managed to successfully integrate VR technologies into the process of teaching English and involve students of the groups COA-36 (л) and A-22 (г) of the Faculty of Foreign Languages. Based on the results of the program, two events were held: 1) 24.05.2021 – concluding session with the presentation of projects for the module "Back to nature: Going extreme" based on the textbook OnScreen C1 (Assoc. Prof. Diana Sabadash, group COA-36 (л)) ; 2) 27.052021 – concluding session on home reading based on the book S. E. Hinton "The Outsiders" (Assoc. Prof. Iryna Malyshivska, group A-22 (г)). In VR, students had the opportunity to participate in discussions, quests, present their projects, even fly in a hot air balloon.
Familiarizing teachers and students with such advanced opportunities provided by virtual reality, expands the list of tools for online / distance learning, makes the process of perception of information more interesting, dynamic and relevant to the demands of today's generation. Theoretical and practical principles of using VR (Altspace VR in particular) in teaching English are included in the course "The use of video materials in foreign language teaching" (instructor – Sabadash D.V.).
Together with colleagues from other higher educational institutions of Ukraine, Iryna Malyshivska and Diana Sabadash presented the results of the events held in Altspace VR during the Media Literacy Workshop on June 11, 2021.